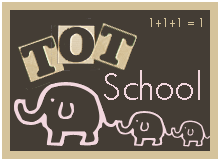 (Xander turned 1 year old this week!)

Our first week of Tot School was a great success. We started off on Tuesday with an
introduction to crayons
. Xander didn't actually scribble, he mainly examined them, pounded them on his tray, and put them inside the envelope. But he had a blast doing all that and he didn't eat either crayon or paper so I was very happy! And so was Xander!
On Wednesday we picked up some helium balloons at the store. He got to play with them a little in the cart but it wasn't until Thursday night that he really got to have fun with them. Once we handed them to him he wouldn't let go. (Almost outgrown his Halloween pajamas! I'll sure miss the cute little pumpkin butt.)
Friday was his first birthday! He had lots of practice in tearing paper and got to work on stacking blocks.


After presents, Xander got to work on his table manners. Happy to be fed his birthday dinner by Grandma (he still only eats purees, has a problem with textures).

Then horribly upset when he found out that he'd finished all the yummy chocolate pudding!

On Saturday we had nature studies and physical education: we went for a walk on our property. Sick of being carried around Xander walked up our hill with some help from Grandpa.

He got to feel fuzzy moss growing on a tree, saw a tiny frog that his uncle caught (and released), and found a small twig covered in lichens and dry moss (saved for our nature shelf).

All in all a busy week. We're looking forward to what learning adventures next week will bring. See what other families are doing by visiting
Tot School